Vertiv Liebert GXT5 5kVA 5000VA single phase, input plug - hardwired, 5U, output – 230V, hardwired, online double conversion UPS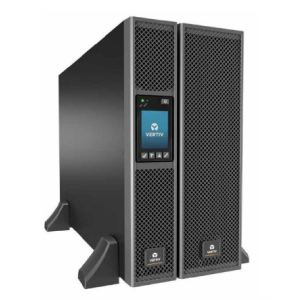 Vertiv Liebert GXT5 5kVA 5000VA single phase, input plug - hardwired, 5U, output – 230V, hardwired, online double conversion UPS
---
Vertiv Liebert GXT5 5kVA single phase, input plug - hardwired, 5U, output – 230V, hardwired, output socket groups (6)C13 & (2)C19 online double conversion UPS
---
30-day money-back guarantee
Free Shipping in U.S.
Buy now, get in 2 days
Intelligent and Efficient UPS Protection for your MissionCritical Applications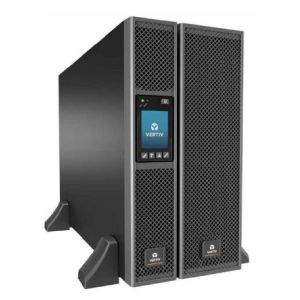 Vertiv™ Liebert® GXT5™
With internet of things (IoT), edge computing and 5G driving the proliferation of interconnected devices, there is growing need to place compute and storage closer to the users to reduce latency and improve the overall customer experience.

These new technology trends are putting pressure on the power demand, as there is all the more a need to maintain efficiency and availability. You need an uninterruptible power supply (UPS) system that's highly available, energy efficient and flexible enough to adapt according to your business needs.

The new Liebert GXT5 from Vertiv is an advanced version of the widely-regarded GXT UPS series.
SPECIFICATIONS
Product
Product name                       Vertiv Liebert GXT5 UPS 6kVA 230V
Product type                         UPS for servers / network
Performance
Apparent power (VA)             6000 VA
Effective power (W)             6000 W
Runtime (50 % load, max.)     14.5 min.
Runtime (100 % load, max.)     5.5 min.
General

Technology                     Double conversion (online)

Battery type                     VRLA (lead acid)
Battery life                     3 - 5 year(s)
Duration                             Renewable
Network

SNMP / management             Optional

How You Benefit from Liebert GXT5 UPS?
DESIGNED FOR HIGH AVAILABILITY
Unity Power Factor (PF=1.0) ensures the connection of more loads and IT equipment

Device can be swapped during operation without powering down connected equipment thanks to the manual bypass POD integrated in the device (removable connection box)

Minimum downtime of the device provided by hot-swappable battery modules which can be changed during operation

Vertiv™ LIFE™ Service remote diagnostic and preventive monitoring service helps to enhance uptime, as well as operational efficiency

Operates at full power up to 40 oC (up to 50 oC with derating)
USER-FRIENDLY OPERATION AND INSTALLATION
Integrated solution that combines electronics and batteries in a single part number 

Easy to read gravity sensing graphical color display

Intuitive user interface, local configuration and management

Enabling remote management

Support for the new Vertiv suite of remote management tools (Vertiv Power Insight, SNMP/webcards, etc)

Auto-detection of up to 6 external battery cabinets (EBC) but supports EBCs up to 10 numbers. EBC helps an easy and fast installation when long runtimes are required